2020 IFT On-line Registration will be closed on 18 January

2020 IFT On-line Registration will be closed on 18 January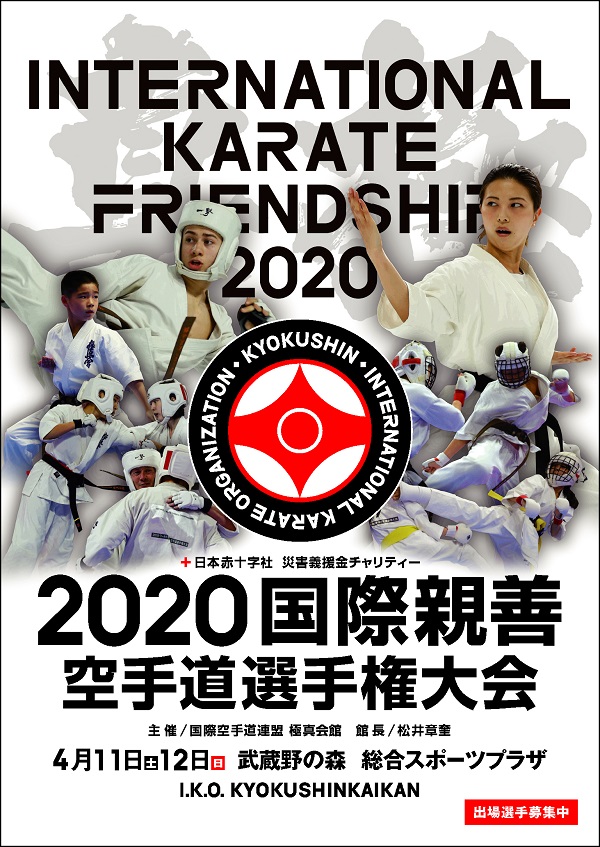 Osu!
It is our pleasure to inform you that IKO Honbu will be hosting the 2020 International Karate Friendships (KATA, Full-contact Kumite with protective gears for Juniors, Men, Women & Seniors at Musashinomori Sports Plaza (MSP) on April 11~12, 2020.
<<General Event Schedules>>
April 10 (Friday) - Check in for all Competitors, Seconds, Judges, BC/DOP. Team Check In Place & Time- please wait further information from Honbu.
April 10 (Friday) - Officiating Seminar from 14:30~16:30, Judge Examination from 17:00~ at C/D Meeting Room in MSP.(Time & Location of the judge meeting can be changed)
April 11 (Saturday) - Day 1 Event in MSP
April 12 (Sunday) - Day 2 Event in MSP
April 13 (Mon) - Sosai's Memorial at Mt. Mitsumine
April 13~14 (Mon~Tue) - Group 1 - Int'l T Camp at Mt. Mitsumine
April 14~15 (Tue~Wed) - Group 2 - Int'l T Camp at Mt. Mitsumine if necessary
April 15~17 (Wed~ Fri) - Intensive Course (Dan Test - 3rd ~5th Dan candidate ONLY) and Ichigeki Kickboxing Seminar (Beginners & Intermediate) with Shihan Filho at Daikanyama Dojo. *Kick boxing course(s) may be cancelled if not enough applicants.

2020 IFT Kumite.pdf
2020 IFT KATA.pdf
2020 IFT categories.pdf
Categories may be combined due to small numbers of entry.
*Application for Competitions, VISA, BC/DOP participation, Camp, Intensive, Judge Team/Examination, Second Pass will start from December23 ~ January 18 via on-line ONLY. https://entry.kyokushin.net/Login
<<Other Important Information>>
*Late application will not be accepted.
*Do not mix up the fighters with other branch chief (BC/DOP must register their fighters with his/her own password) - BC/DOP who does carry on the On-line registration will bear responsibility until the payment.
*BC/DOP must check competitors Doctor's OK prior to the event and will be asked to sign "Confirmation sheet to HONBU" during the Team registration. (If BC/DOP cannot attend the event, his or her representative must sign the sheet instead.
*BC must wear the official BC suits during the entire event.
*Second must be IKO members' ONLY
*This event is admission free for IKO supporters.
*There will be NO Sayonara party this time.
*Int'l camp(s) are limited to IKO members who are 14yrs and older.
*Honbu will decide Group 1 or 2 so please allow your travel plan to fit both terms. (Those who attend Intensive Course will be schedules in Group 1 automatically.)
*If you don't retain BC/DOP Password, please send your request today: honbu@kyokushinkaikan.org
*Tournament regulations/Protective gears requirement etc, will be released after.
*Discount Dogi, Pre-ordered gears and BC Suits order will be sent later.

<<Access Information>>
*MSP (Musashinomori Sports Plaza): 290-11 Nishimachi, Chofu-shi, Tokyo ... All events
*Daikanyama Dojo: 3-7-4F Sarugakucho, Shibuyaku, Tokyo ... Intensive Course (Dan test), Kickboxing Seminar
*Metropolitan Hotel in Ikebukuro: Toshima-ku, Nishi-Ikebukuro 1-6-1 ... Bus for International Training Camp

*The "Base Train Station" to access MSP is Shinjyuku Station. The nearest train station to MSP is Tobitakyu Station operated by KEIO Rail way. (appr.20~40min from Shinjyuku to Tobitakyu Station). Access: http://www.ajinomotostadium.com/english/access.php
*HONBU do not make Hotel reservation for BC/DOP and other participants. Please book your own hotel.

If you have any questions, please feel free to send e-mail to Honbu.
Good luck to your preparation and see you in April in Tokyo.
Best regards
IKO Honbu
---