Updates: 2018 IFT Kumite/Kata, World Women & 35th All Japan Weight Categories

Updates: 2018 IFT Kumite/Kata, World Women & 35th All Japan Weight Categories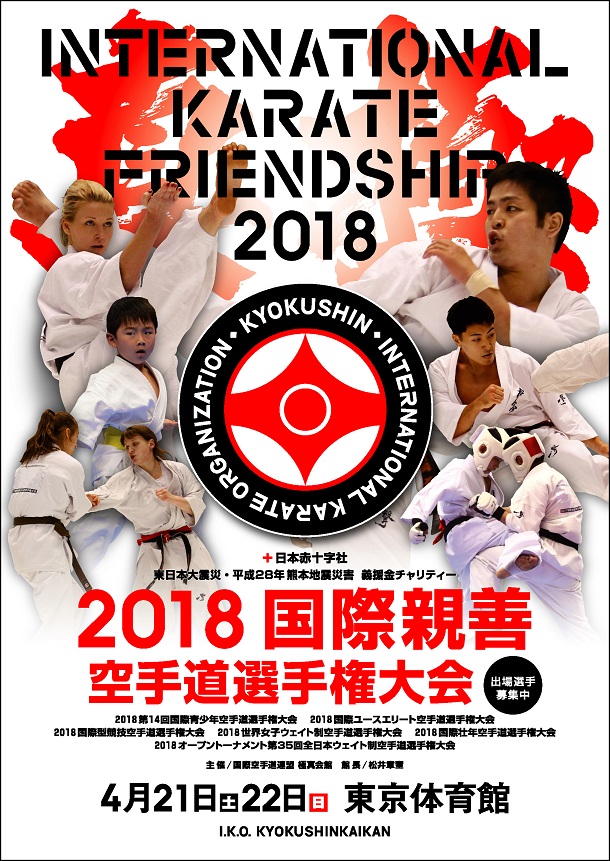 Osu
It is our pleasure to inform you that IKO Kyokuushinkaikan is holding 2018 IFT (Juniors, Seniors and
Women) & the 35th AJWC (Men) in Tokyo on April 21~22, 2018. The events on 20~21 April at Tokyo metropolitan gymnasium are admissions free for all IKO members and their supporters.


April 20 (Friday)
l All Competitors & Second, BC/DOP (Team check-in only) from 10:00 ~19:00 at Honbu Dojo in Ikebukuro (3F)
l IKO ID, Doctor's OK, Dogi, Belt, Official Protective Gears check, BC Discount Dogi pick up
l Judge Seminar and Examination 14:00~ at No.1 meeting room in the Tokyo Taiikukan. Prospect Judges must attend the course to be in the judging team. New judge outfit are required; Gray trousers, new IKO Judge tie. Semi-contact judge seminar will be followed.


April 21 (Saturday)
l 8:00 Doors open - All competitors, seconds, judges and BC & DOP (BC, DOP, Judges- use North Side Entrance ONLY)
l Competitors check-in in your court (No1 ~ 10) in Dogi and protective gears. Receive souvenirs & tournament book.
l Competitors in both Kata & Kumite, check-in to the Kata court first then Kumite court. Stand by in Kata court for the opening ceremony. *Late check in for foreign branch competitors possible.
l 9:30 Opening Ceremony ● 10:10 Preliminary Kata ● 12:10 Final Kata ● 12:40 Kata finish
l 13:00 Kumite competitions ● 18:00 Kumite finish
*No 3rd place fight-offs, award presentation will be held at designated area. (Follow the instruction of the court staffs)
★ 18:10 Int'l BC &DOP meeting at No 2 meeting room


April 22 (Sunday)
l 9:00 Doors open - Top 16 Men & Top 8 Women competitors in each weight category, BC/DOP, Seconds and Judges.
(BC, DOP, Judges- use North Side Entrance ONLY) *Late check in for foreign branch competitors possible.
l 10:00 Opening Ceremony ● 10:40 Kumite start ★ 15:40 Semi-contact rules explanation at No3 Court
● 16:00 Weight categories semi-finals & 3rd place fight off (No 3rd place fight off for tall he junior & senior categories)
● 17:20 Award/closing Ceremony
April 23~24 (Mon ~ Tue) Sosai Oyam's 23rd Memorial + International Training Camp
l Pre-registered members only. Buss will leave from Metropolitan Hotel at 7:30am. Come back next day around 16:00pm
April 24~27 (Tue ~ Fri) Intensive Course (Dan Test) + Kick boxing seminars at Daikanyama Dojo
l Morning session start from 10:30~ daily, afternoon session's schedules will be announced later. Lunch box will be served.
・Honbu Dojo: 2-38-1 Nishiikebukuro, Toshimaku, Tokyo
・Tokyo Guimnasium: 1-17-1 Sendagaya, Shibuyaku, Tokyo
・Daikanyama Dojo: 3-7-4F Sarugakucho, Shibuyaku, Tokyo
(OFFICIAL DRAWS)
IFT Kumite http://www.kyokushinkaikan.org/files/2018ikf-tournament.pdf
IFT Kata http://www.kyokushinkaikan.org/files/2018ikf-kata.pdf
Women's World http://www.kyokushinkaikan.org/files/2018www-tournament.pdf
35th All Japan http://www.kyokushinkaikan.org/ja/news/files/2018/03/2018W0328.pdf
(CATEGORIES & RLES)
2018 Categories & Dates.pdf
2018 Kmite Rules & Geras.pdf
2018 Kata Rules.pdf

Due to the small numbers of applicants, changes in the Mater's categories had been made as follows;
1. Mater Class Kumite 35~44 Open weight
2. Mater Class Kumite 45~49 Open weight
3. Mater Class Kumite 35~44 Open weight

Tournaments, VISA and BC/DOP on-line entry are closed. Thank you everyone for your cooperation. We received over 2,000 competitors entries this time.
Event applications for Camp, Dan Test, Intensive course, Kickboxing Seminar, Judge seminars via BC/DOP are also closed.

*Details of events schedules will be released after.
*Operation of Intensive course is now changed. Only 2nd~ 5th Dan Candidates can apply for Intensive course. (1st Dan test will not be conducted. Mitsumine camp will offer training only.) However, those who register either Intensive course or Kickboxing seminar and wish to attend Sosai Oyama's Memorial will be allowed to take the bus to Mt. Mitsumine with no additional cost. (must applied with designated forms via BC/DOP before 20 January)
Your support and cooperation is always our strength. BC who register himself (herself) on-line will receive full package of souvenirs. IKO Branch Chiefs must wear official IKO suits, tie and shoes during official events.
If you have any questions, please feel free to send email to Honbu.
Good luck to your preparation and see you SOON in Tokyo!
Best regards,
IKO Honbu
---