Update - 2016 IFT Event Information

Update - 2016 IFT Event Information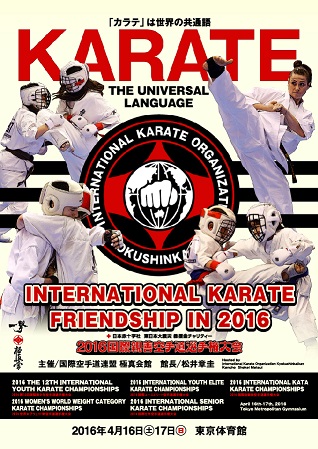 Osu!
We are pleased to inform you about the following IKO events in April 2016.
Updated Information is available:2016 IFT General Event Infomation 1.doc
Schedule:
April 15 (Fri) at Honbu Dojo in Ikebukuro
*BC/DOP, Judges, Competitors Team Check-in
*Officiating Seminar
April 16~17 (Sat~Sun) at Tokyo Metropolitan Gym
* Junior, Senior, Women's World, Kata and Team Kata Competition
* International BC & DOP meeting

April 18~19 (Mon~Tue)
*Mitsumine Camp/Dan Test, Sosai Oyama's Memorial at Mt. Mitsumine

April 20~22 (Wed~Fri)
*Intensive Training Course for higher Dan at Honbu-Daikanyama Dojo
April 23 (Sat)
*100 Man Kumite at Honbu-Daikanyama Dojo

2016 IFT Categories, Dates.pdf

2016 IFT Kumite Rules, Gears.pdf
2016 IFT Kata Rules.pdf
BC/DOP Entry, IFT Competitors and VISA request:
On-Line registration will start from December 25 and will end on January 22. http://www.kyokushinkaikan.org/bc-login/index.php

BC/DOP must use PASSWORD to complete registration by due date. Late and/or invalid application may not be accepted or will be charged extra. If you don't have your password, send your PASSWORD request to Honbu@kyokushinkaikan.org

Your support and cooperation is always our strength. All BC/DOP who attend events are asked to register him (her) self on-line. Please enter your information under "OTHERS" section therefore your attendance will be known to us and we can prepare for your involvement. We will not prepare BC/DOP souvenirs if online registration is not completed.

Team KATA:
We will now take TEAM KATA applications online. Please use our online registration system to apply.
Master's Categories:
Competitors who have participated in the Men's Open World or Weight Category World Tournament in the past or those who are recommended by BC/DOP and approved by IKO Honbu can enter the master's category.
*All Categories and schedules are subject to change. Detailed information will be announced upon availability.
If you have any questions, please feel free to contact us.

Thank you, OSU!
IKO Honbu
---