RELEASE The 53rd All Japan Open Championship and the 37th All Japan Weight Category Championships

RELEASE The 53rd All Japan Open Championship and the 37th All Japan Weight Category Championships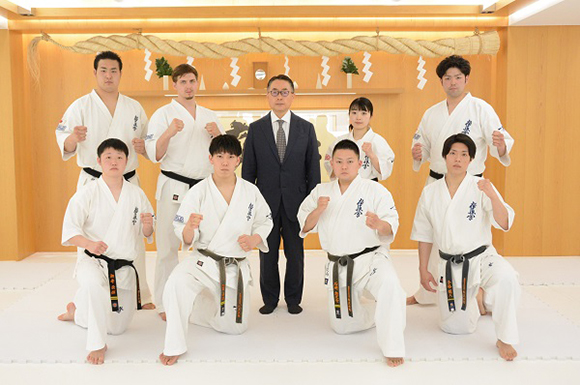 April 7th, 2022
IKO Honbu Daikanyama Dojo
On April 6, 2022, a news conference was held at IKO Honbu Daikanyama Dojo presenting the upcoming 53rd All Japan Open Championship and 2021 All Japan Women's Championships scheduled for April 17, 2022. Kancho Shokei Matsui, along with the Top 8 Men's Contenders, including defending champion Konstantin Kovalenko and Kaito Nishimura, and the defending Women's Champion, Nanami Sato, were in attendance.
Kancho Matsui made the opening remarks, "This All Japan Open Championship will be the first selection event for the 13th World Open Karate Championship. Over the years since 2016, we have been gradually modifying Kumite rules, and standardizing our officiating procedure to elevate the quality and integrity of Kumite matches, while preserving the safety of participants paramount."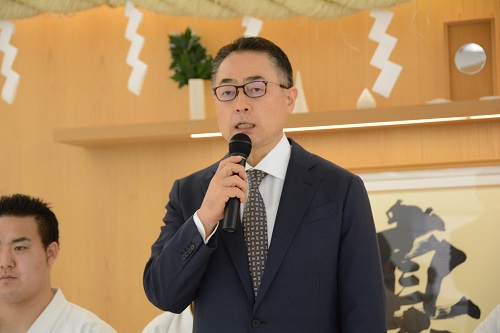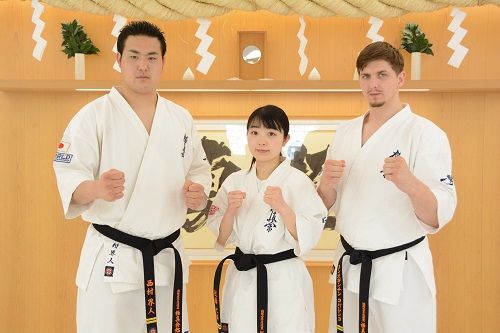 Kancho Matsui additionally discussed the upcoming, 2022 Open Tournament All Japan Weight Category Karate Championships (the 37th All Japan Weight Category Karate Championships) scheduled for June 4 -5, 2022.
"The IKO Kyokushinkaikan will co-organize these championships together with the All Japan Shinsei Karatedo Organization Shinseikai (President Naoki Nakamoto). As we target the next World Weight Category Karate Championships in a few years' time, we have agreed to adapt IKO Kumite rules."
"Full contact karate competition is originated by the IKO Kyokushinkaikan, founded by Sosai Masutasu Oyama. Championship events are held to raise Karatedo's social status, advance karate practitioners' skills, and develop participating organizations further. These championships will be co-organized by IKO Kyokushinkaikan and Shinseikai, as an open tournament. Since the 1st All Japan Open, IKO championships have always been 'open', however, only a small number of competitors from several partner organizations and styles have participated for over 30 years. Currently, many full contact organizations and styles exist so that opportunities for exchange are very limited. Each organization has its own philosophy and policy, but if IKO Kyokushinkaikan and Shinseikai could provide a stage for mutual exchange, it would be beneficial for all parties to participate respectfully with one another."
"We do not mean to organize a competition organization but to provide a singular stage for like-minded karate practitioners to exchange techniques and ideas together, without interfering in each organizations' internal policies and affairs. If this project is successful, I hope we can form a cooperative association among participating organizations to organize even larger scale projects. Effectively, and so long as mutual respect and camaraderie is a core value, we will welcome participants from other organizations and styles to apply."
Kancho Matsui explained about Sosai Oyama's "Concept for the 1st All Japan Open Tournament", which was held in September 1969, as the first ever full contact karate competitions.
"Sosai Oyama created this statement more than 50 years ago, before holding the 1st All Japan Tournament. I had the opportunity to re-read it, I was deeply impressed and sincerely honored to be his student. I feel we should realize Sosai Oyama's directive. The 13th World Open next year will be a memorial event for the one hundredth anniversary of Sosai Oyama's birth. I would like to focus our activities based on Sosai's original intent. The All Japan Weight this June with Shinseikai will be the first step towards this purpose."
Shinseikai President Naoki Nakamoto's message was introduced, "We, Shinseikai, are different from IKO Kyokushinkaikan, but are a full contact karate organization. Our roots are in Sosai Masutatsu Oyama's real karate fighting. This collaboration shares our desire to go back to the basic with the IKO Kyokushinkaikan. Through this opportunity, relations between the IKO Kyokushinkaikan and Shinseikai will be closer, and our competitors, members, and organizations will develop further. I hope many organizations and styles, who respect our ideals and have similar aspirations, to participate in these championships."
Kancho Matsui answered a question regarding applications from other organizations, "In general, I would like to accept all applicants from any organization, but each organization must have honorable relations with us. For example, organizations formed after separating from our IKO Kyokushinkaikan, and named "Kyokushin", many did not fulfill responsibilities to our organization, or otherwise breached our organization policy and trust. For their participants' applications to be considered, issues must first be resolved. However, I would like to take a positive approach to anyone, or any organization, to begin the dialogue. I hope many organizations appreciate this concept, and we can take this first step together."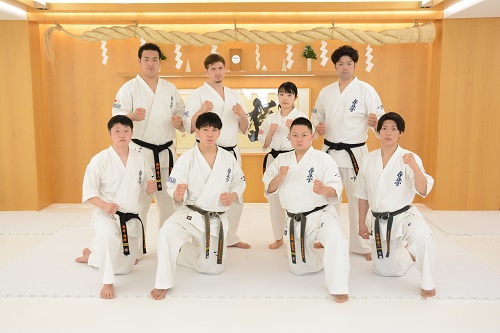 ---