The 12th World Open & 2019 Women's World Open Karate Championship Report

The 12th World Open & 2019 Women's World Open Karate Championship Report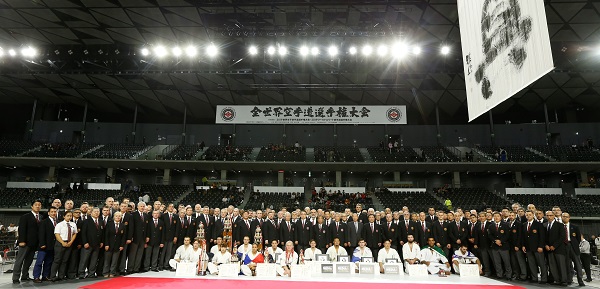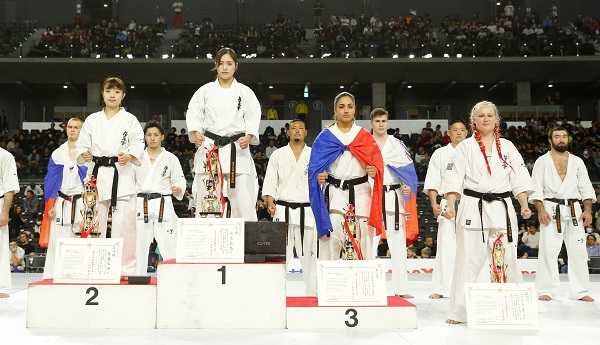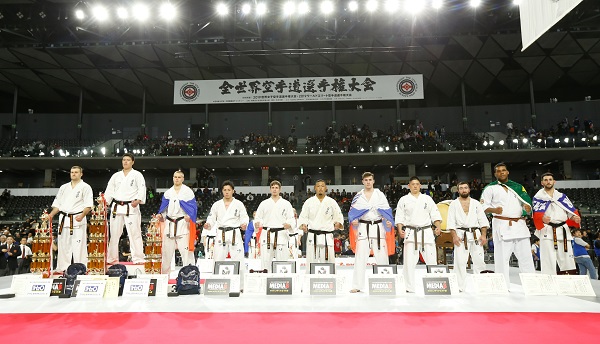 The 12th World Open Karate Championship and the 2019 Women's World Open Karate Championship was held at the Musashinomori Sports Plaza from November 22-24, 2019. 166 men and 34 women, a total of 200 fighters, competed for the Kyokushin Karate Open Weight World Championship Title.
In the Women's World Open Karate Championship, Nanami Sato (Japan), 2018 All American Open Women's Champion, defeated 6x Women's World Weight Category Champion, Uliana Grebenshchikova (Russia) in the 4th round and overcame Anastasiia Khasanova (Russia), Women's Champion of the 2017 & 19 All American Open, to go into the Final. The current All Japan Women's Champion, Miyuu Nagayoshi (Japan) beat the 2017 European Middleweight Champion, Shainez Elhaimour (France), which set-up her Final bout with Sato - the same match-up as last years All Japan Women's Final. Nagayoshi won that Final in extra time by decision. In this Final, it was a draw across the board, in the main round 0-0, in the first overtime round 1-0 to Nagayoshi, and in second overtime round 1-1 for each fighter. The match decision then became a battle of Tameshiwari (board breaking) in real time on stage. Both fighters aimed to break 4 boards with Enpi (elbow). Nagayoshi went first with success, but Sato's attempt failed. After 7mins of fighting and no clear winner, Nagayoshi was hailed Women's World Open Champion by Tameshiwari.
In the Men's World Open Karate Championship, the preliminary matches to determine the best of the best, were fought on Day 1. Several international favorites from around the world were eliminated, while the rest advanced the 2nd & 3rd rounds of competition on Day 2. One of Russia's favorites, Kirill Kochnev, who was 4th in the last World Championship 4 years ago, lost on Day 2, in a surprising upset to the towering 210cm, 145kg Brazilian giant, Icaro Nascimento, in the 3rd round by Wazaari (Ashikake-Gedan-Tsuki). By Day 3, the Best 32 fighters from 6 leading nations advanced to the 4th round: Russia (14), Japan (13), France (1), Poland (1), Spain (1), Brazil (1), USA (1).
Day 3 displayed non-stop action from start to finish. If you left your seat for an instant, you missed an incredible knockout, or fan favorite's brief appearance before his untimely defeat. As the arena filled with elated fans from Europe, the Americas, Asia, South Pacific, Russia and the hometown legions of fans from across Japan, World Open contender favorite fighters were summarily eliminated, one by one.
The 48th All Japan Open Champion favorite, Zekken#1, Shohei Kamada (Japan) suffered a stunning loss to the up and coming young Russian, Igor Zagainov, by Ippon (Jyodan Mawashi Geri), which advanced Zagainov to the quarter finals along with fellow Russian teammates, Aleksandr Eremenko, Andrei Luzin and Konstantin Kovalenko. For Japan, quarter-finalists were Yuta Takahashi, Ryunosuke Hoshi, Shoki Arata & Mikio Ueda. An even split between the two rival nations in the Top 8 - the ultimate winner could only be Russian, or Japanese.
In the first quarter-finals, Eremenko defeated fellow teammate, Zagainov by Wazaari, for the leader in Block A, and Takahashi defeated his fellow teammate Hoshi, in a 5-0 decision to lead Block B. Block C was won by Luzin, who advanced over Arata by a decision, 4-0, and the current All Japan Champion Ueda defeated Kovalenko by Jyodan Mawashigeri (Wazaari) to lead Block D.
The first semi-final match, Eremenko vs. Takahashi, could not be determined after the main plus 2 extension rounds. With both fighters having broken the same number of boards (17), and a less than 10kg weight difference (Eremenko 95.5kg and Takahashi 94.5kg), the two went into a final sudden-death round, in which Eremenko advanced into the finals by a 5-0 decision. The second semi-final was much clearer, with Ueda defeating Luzin by Wazaari (Jyodan Hiza Geri) to advance to the Final.
Before the Final rounds, a unique demonstration combining inspiring Gospel Choir and HIDEBOH Gekidan HIGUCHI Tap Dance was performed on center stage. The motivating performance showcased rising Japanese Singer-Songwriter, Kiyotaka, whose original song, "My Victory", was selected as the Theme Song of the 2018 Pyeongchang Winter Olympic Games & renowned Japanese Actor, Singer, Dancer & Choreographer HIDEBOH, who is widely credited as the man who introduced Tap Dance to Japan, and who staged the combat sequences for the legendary film, The Blind Swordsman: Zatoichi.
In the 3rd/4th fight-off, Luzin defeated a tiring Takahashi, by 4-0 by decision to rise to 3rd Place. The Final was both Eremenko and Ueda's 8th challenge bout over the 3 Day event, but neither showed fatigue. In the main round, no clear winner emerged, though Ueda had a slight edge in the main round (1-0). In the first and second overtime extension rounds, again no clear winner was established, though Eremenko seemed to have a slight edge (1-0) - neither was able to gain a real advantage over the other however and the Championship decision then went to Tameshiwari (board breaking). Ueda's 23 boards won over Eremenko's 17 boards to take the World Open Karate Championship Title back to Japan after its 16 year absence, since Hitoshi Kiyama won the 8th World Open in 2003.
Ueda after the bout... "I really wanted to bring the crown back to Japan, and I'm so happy I was able to follow my word. I was able to win this time, but I'm not that strong. Kyokushin family, and the people around me, helped make me who I am today. I'd like to continue progressing the next 4 years and aim to repeat this feat at the next World Open Karate Championship.
Kancho Matsui on the championship... "The technique is boldly evolving, but it is still in the process of development. In that sense, new Champion Ueda has shown great progress, but is still developing in all areas. I hope all fighters challenging for the 13th World Open Championship four years from now, devote themselves to training, and advance well beyond our imagination."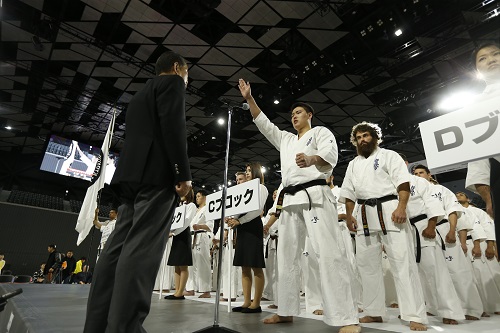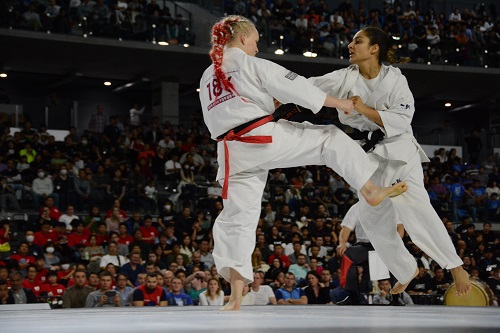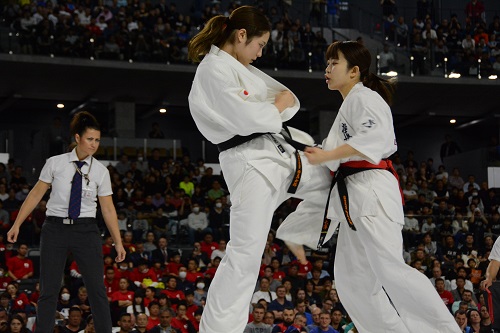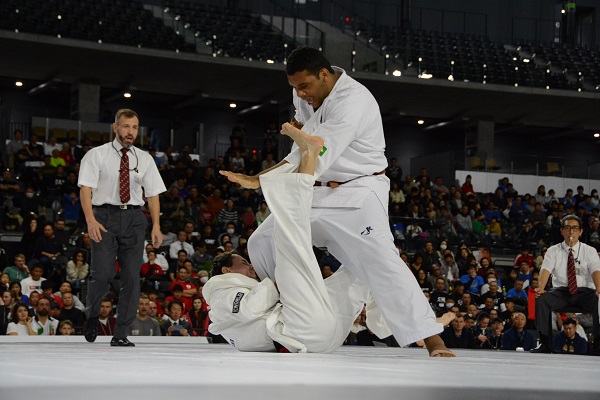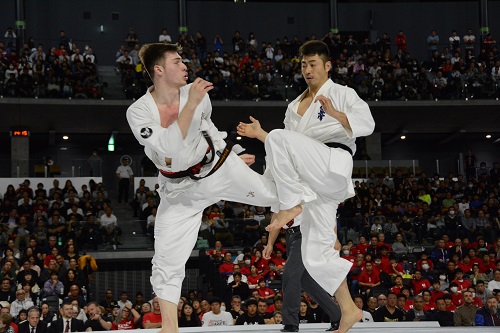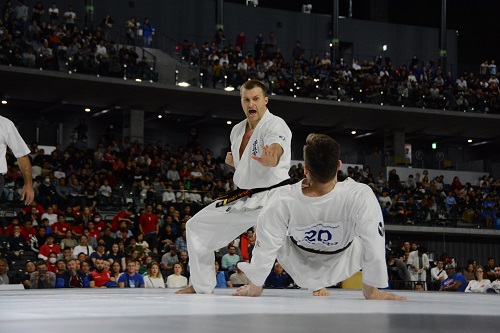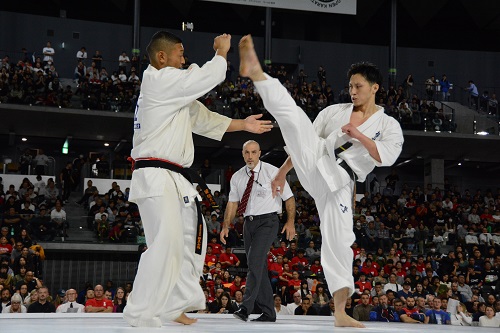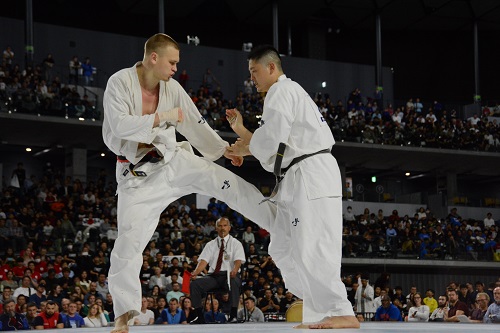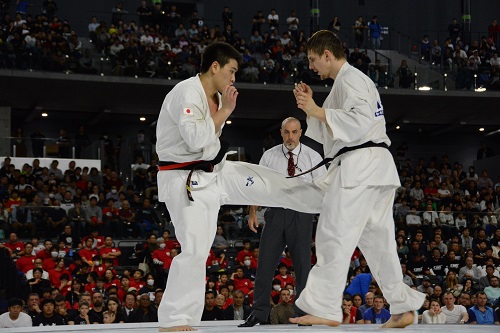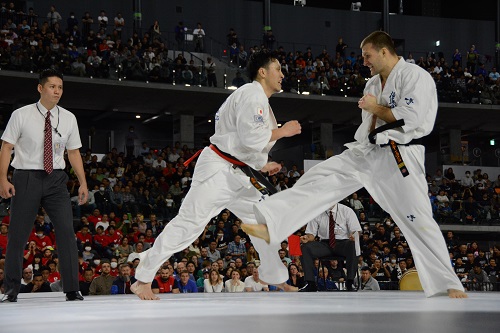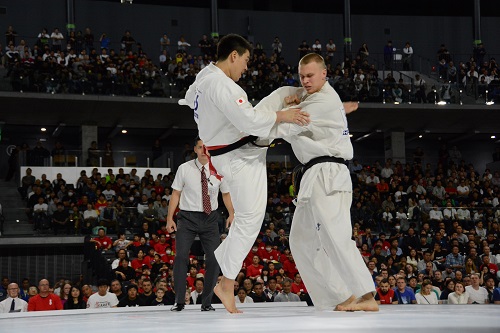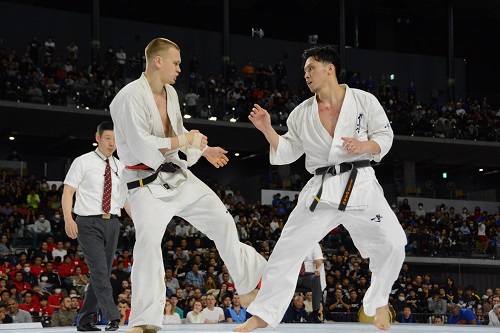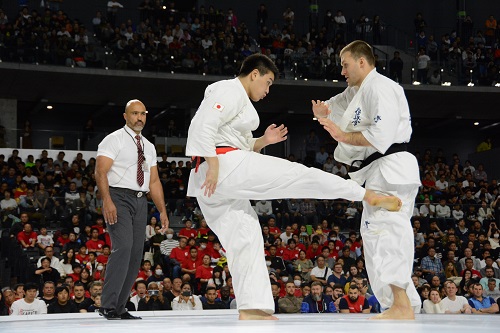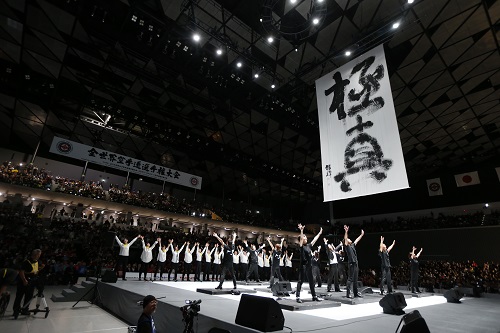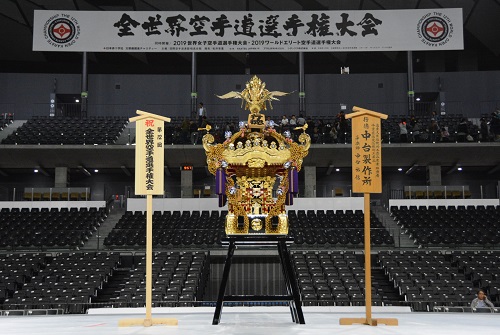 ---