2019 IFT On-line Registration & Event Applications Finished

2019 IFT On-line Registration & Event Applications Finished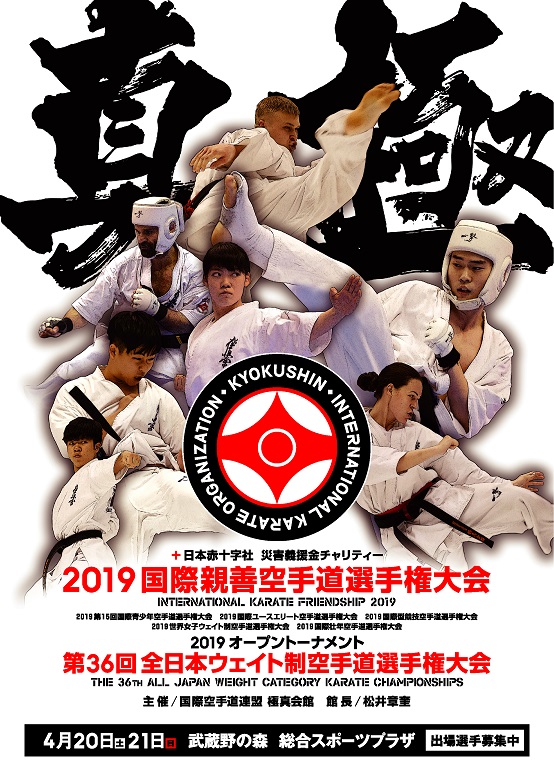 Osu
It is our pleasure to inform you IKO Honbu will be hosting 2019 International Karate Friendships (KATA, Kumite, Semi-Contact Kumite for Juniors, Seniors and Women as well as for the Men's 36th All Japan Weight Category Karate Championships at Musashinomori Sports Plaza (MSP) on April 20~21, 2019.
2019 IFT Kata Rules.pdf
2019 IFT Kumite (Full-contact) Rules & Geras.pdf

*2019 IFT Semi-Contact Categories
(There will No Team Kata this time)

Application for VISA, Competitions and BC/DOP participation will start from December 19 ~ January 20 via on-line. Regulations and protective gears requirement etc, will be released after.
http://www.kyokushinkaikan.org/bc-login/
If you don't retain BC/DOP Password, please send your request today: honbu@kyokushinkaikan.org

*****General Event Schedules****
April 19 (Friday): Check in for all competitors, seconds, Judges, BC/DOP. Please note that Check In place & time has not been confirmed. Further information will be made upon availability.
April 20 (Saturday): Day 1
April 21 (Sunday): Day 2
April 22~23 (Mon, Tue): Sosai's Memorial and Int'l T Camp at Mt. Mitsumine
April 23~26 (Tue~ Fri): Intensive Course (Dan Test) and Ichigeki Kickboxing Seminar with Shihan Filho at Daikanyama Dojo.
To enter Camp, Intensive course, Dan test, Kickboxing Seminar and Judges, designated 2019 Event Application Form must be sent via registered BC/DOP. Dead line of above event application is January 26.
~INFORMATION~
*The "Base Station" to Musashinomori Sports Plaza (MSP) is Shinjyuku Station. The nearest train station to MSP is Tobitakyu Station operated by KEIO Rail way. (appr.20~40min from Shinjyuku). Access: http://www.ajinomotostadium.com/english/access.php
*Honbu will contact BC/DOP in case Semi-contact categories does not meet minimum number of entries which is two in each category weather or not he/she is willing to switch to "regular" Kumite category.
*It is not possible to enter two Kumite Categories; Kata and one Kumite category ONLY. (see price list)
*Hotel room for the Mt. Mitsumine camp have limit in its capacity. Please wait for Honbu's confirmation so that your member will have the room before making travel arrangement. To secure the space, advance payment may be required. Honbu will contact BC/DOP if overwhelmed number of applications received.

Your support and cooperation are always our strength. All BC/DOP who will attend our events are asked to register himself (herself) on-line. Please enter your information under "OTHERS" section therefore your attendance will be known to us.

If you have any questions, please feel free to send e-mail to Honbu.
Good luck to your preparation and see you in April in Tokyo.
---