2018 IFT & 35th All Japan WWC Online Registration Started

2018 IFT & 35th All Japan WWC Online Registration Started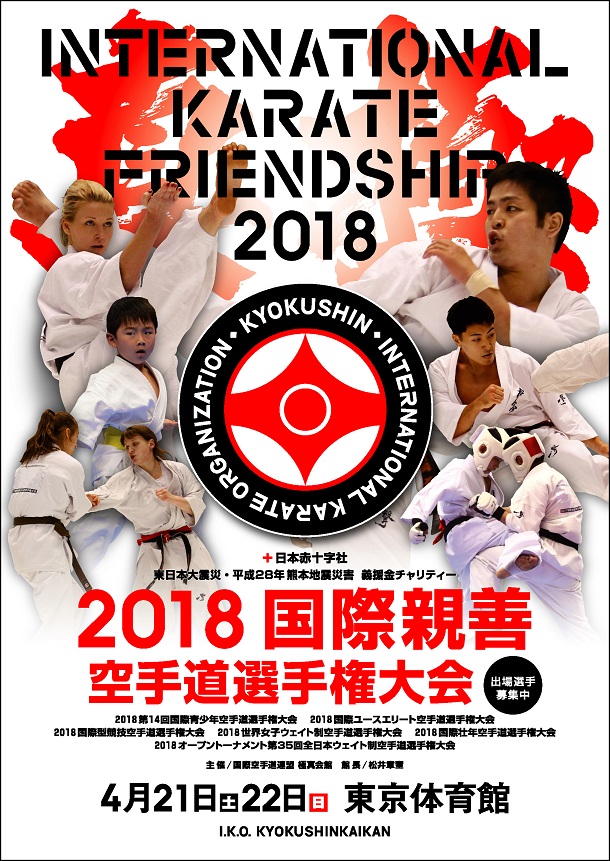 Osu
It is our pleasure to inform you the categories of 2018 IFT (Juniors, Seniors and Women) & the 35th AJWC (Men) in Tokyo on April 21~22, 2018. Please note there will be no Team Kata competitions at this tournament. 2018 Categories & Dates.pdf
Tournaments, VISA and BC/DOP entry will start from December 6 ~ January 20 via on-line.
http://www.kyokushinkaikan.org/bc-login/

If you don't retain BC/DOP Password, please send e-mail to: honbu@kyokushinkaikan.org

Event application forms for Camp, Dan Test, Intensive course, Kickboxing Seminar, Judge seminars will be sent via BC/DOP

<<<General Schedules>>>
April 20 (Friday) Check-in for competitors, seconds + BC/DOP at Honbu Dojo in Ikebukuro. (10:00am~18:00pm)
April 20 (Friday) Judge seminar at Tokyo Taiikukan in Sendagaya (16:00pm~)
April 21 (Saturday) Day 1
April 22 (Sunday) Day 2
April 23 (Monday) Camp Day1 + Sosai Oyama's Memorial at Mitsumine
April 24 (Tuesday) Camp Day2, Intensive Course (Dan Test), Kick boxing Seminar at Daikanyama Dojo
April 25 (Wednesday) Intensive Course, Kick boxing Seminar
April 26 (Thursday) Intensive Course, Kick boxing Seminar
April 27 (Friday) Intensive Course, Kick boxing Seminar
*Details of events schedules will be released after.
*Operation of Intensive course is now changed. Only 2nd~ 5th Dan Candidates can apply for Intensive course. (1st Dan test will not be conducted. Mitsumine camp will offer training only.) However, those who register either Intensive course or Kickboxing seminar and wish to attend Sosai Oyama's Memorial will be allowed to take the bus to Mt. Mitsumine with no additional cost. (must apply with designated forms via BC/DOP)
Your support and cooperation is always our strength. All BC/DOP who will attend our events must register himself (herself) on-line without exception. Please enter your information under "OTHERS" section therefore we will be ready for your involvement. Branch Chiefs must wear official IKO suits, tie and shoes during official events.

If you have any questions, please feel free to send email to Honbu.
Good luck to your preparation and see you in April in Tokyo!
Best regards
IKO Honbu
---