Update - IFT Dreaw, Satuarday & Sunday's New Schedules

Update - IFT Dreaw, Satuarday & Sunday's New Schedules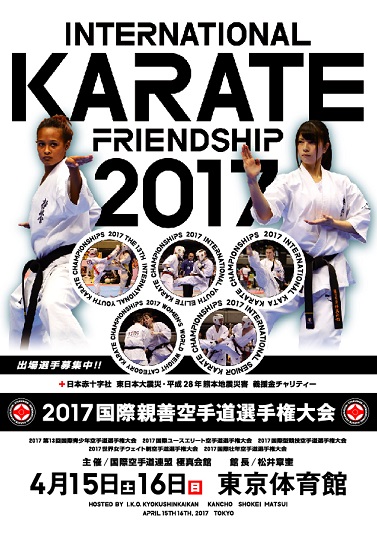 Dear IKO Member
Osu
It is our pleasure to inform you that IKO Honbu will be hosting The 6th World Weight Category Championships (WWC) and 2017 International Karate Friendships (IFT) in Tokyo on April 15~16.

2017 IFT Offcial Draw
http://www.kyokushinkaikan.org/files/2017ikf-touranament_list.pdf


2017 IFT Categories, Dates.pdf
2017 IFT Kumite Rules and Gears.pdf
2017 IFT Kata Rules.pdf

On-line application for the championships, VISA and BC/DOP will start from December 14until January 20.
http://www.kyokushinkaikan.org/bc-login/index.php Late entry or application sent by other form will NOT be accepted. All qualified BC/DOP who will attend the championships in any function are asked to register himself (herself) on-line.
*****Updated Event Schedules****
April 14 (Friday) :Check in for all IFT competitors, Second and BC/DOP - competitors must sign a waiver form, receive Zekken at Honbu Dojo in Ikebukuro.
April 14 (Friday): Judge seminar will be held at Tokyo Taiikukan (No1 Meeting room, 15:00PM start)
April 14 (Friday) : World IKO BC/DOP meeting will be held at Tokyo Taiikukan after Judge seminar.
April 15 (Saturday): IFT Kata & Kumite competitions
NEW!! April 15 (Saturday): 6th WWC competitors' check will be held at Tokyo Taiikukan's No1 Meeting Room. (Starts from 14:00pm~, 32 Competitors will sign a waiver form, Check weight, Receive Zekken & Souvenir. Must bring Dogi & Obi, Doctors OK and IKO ID card)
April 16 (Sunday): IFT Team kata, Women's Championship & 6th WWC
NEW!! April 16 (Sunday): Sayonara Party will be held at Metropolitan HOtel in Ikebukuro from 18:30pm~
April 17~18 (Monday~Tuesday): Mitsumine Camp & Dan Test
April 19~21 (Wednesday~Friday): Intensive Course & Kick Boxing Seminar by Shihan Francisco Filho at Daikanyama Dojo in Shibuyaku

*Discount tickets for the 6th WWC are now available via qualified BC/DOP.
SRS Tickets are sold out as of 23 January.

*Applications for the tournamnet Judges, International Camp & Dan test, Intensive Training Course, Kick boxing seminar, please contact your BC/DOP for details. Application Deadlines of these events are also 20 January

Good luck to your preparation and see you in April in Tokyo!!
IKO Honbu
---