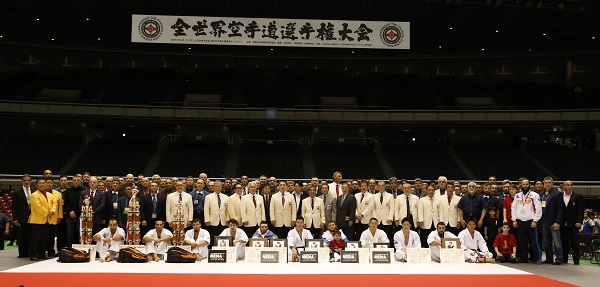 The 11th World Open Karate Championship was held from November 20th thru 22nd at the Tokyo Metropolitan Gymnasium. Zahari Damyanov from Bulgaria won for the first time in his third attempt where 192 fighters from around the world challenged for the open weight crown.
The 1st round was fought on day 1, the 2nd and 3rd round on day2. 32 fighters advanced to the 4th round on day 3 (Russia 18, Japan 9, Bulgaria 1, France 1, USA 1, New Zealand 1, Ukraine 1). Oleksandr Ieromenko from Ukraine who was one of the favorites to win the championship exited in the 3rd round.
There were high hopes for Japan to reclaim the crown and last years All Japan Open tournament runners-up Shoki Arata and 6th place Mikio Ueda advanced to the top 8 but both lost in the quarter final.4 fighters from Russia advanced to the top 8 but all lost in the semi-final. The final was an all- European final with Zahari Damyanov from Bulgaria winning by decision against Djema Belkhodja from France.
There were a big hand of applause and cheers to runners-up Djema Belkhodja and the French fighters who suffered a disastrous terrorist attack in their homeland throughout the championship.
On day 3 there was a Japanese calligraphy performance by Chirographer Taizan Yanagida and the letters "極真(Kyokushin)"was written at the opening ceremony. Also at the opening ceremony JKF (Japan Karatedo Federation) President Takashi Sasagawa who was attending the event as a guest gave a speech and the top fighters from the JKF performed a Kumite and Kata demonstration.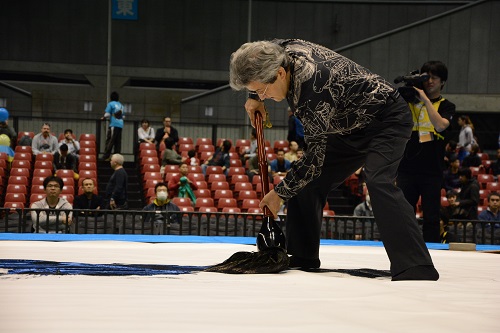 The 11th World Open Karate Championship Official Results
2015 November 20~22/Tokyo Gymnasium
1st Place/Zahari Damyanov(Bulgaria)
2nd Place/Djema Belkhodja(France)
3rd Place/Darmen Sadvokasov(Russia)
4th Place/Kirill Kochnev(Russia)
5th Place/Ashot Zarinyan(Russia)
6th Place/Mikio Ueda(Japan)
7th Place/Ivan Mezentsev(Russia)
8th Place/Shoki Arata(Japan)
Best Spirits Award/Ashot Zarinyan(Russia)
Best Technique Award/Yuta Takahashi(Japan)
Best Tameshiwari Award/David Sarkhoshyan(Russia=25 Board)
Young Lion Award/Kenta Nanbara(Japan)