"GENKOTSU" available on Apple store now!

"GENKOTSU" available on Apple store now!
The iPhone Karate game from Kyokushin Kaikan "GENKOTSU" is now available at Apple Store.
You can enjoy "GENKOTSU" using the unique movement of smart phone "the Swipe" and the theme is "TAMESHIWARI".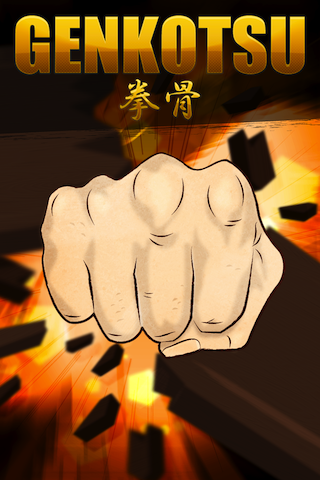 Application Name:
GENKOTSU
Price:Free until 2011.Nov.6
Download from App Store
http://itunes.apple.com/jp/app/genkotsu/id457504854?l=ja&ls=1&mt=8
System Requirements: iPhone 3GS with iOS4.1 or higher, iPhone4, iPhone4S, 4th Generation iPod Touch
※screen size is not specified for iPad、iPad2

(Ranking System)
GENKOTSU has an original ranking system that you can share will all the users around the world. The system is also linked with "iKyokushin Portal " (available at App Store) so you can challenge your friends in ikyokushin Portal.
The ranking system is updated everyday so you get the latest rankings around the world. If you get a high score you can upload it to your Facebook, Twitter and SNS such as iKyokushin Portal (Official application of IKO)

(Buy items in the application)
If you want to get higher scores and out do your friends there's items such as "time extension", "Add HP" that you can buy.
"GENKOTSU" is available for FREE as a Commemoration for the 10th World Tournament until 2011, Nov.6
After Nov.6 you can get it for 170JPY
---