3.28 K-1 in YOKOHAMA & 4.5 DREAM. 8 in NAGOYA

3.28 K-1 in YOKOHAMA & 4.5 DREAM. 8 in NAGOYA
『3.28 K-1 WORLD GP 2009 in YOKOHAMA』
Kyokushin warriors Ewerton Teixeira, Glaube Feitosa and Takumi Sato got off to aperfect start in their quest to achieve the biggest goal of 2009 "To conquer the K-1 GP" Final
▼K-1Rule Opening Fight #2
○Takumi Sato(Kyokushinkaikan)
TKO 3R1min19sec
※Throw in the Towel
●Hiraku Hori(HIDE'S KICK )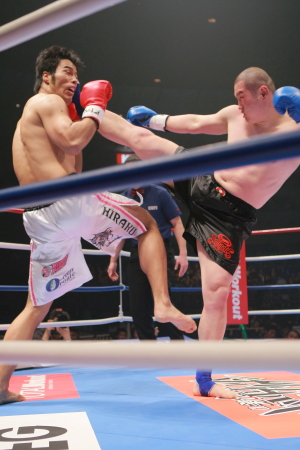 First in the opening fight#2 Sato fought with the 198cm giant Hiraku Hori. He downed Hori in the early stages of the 3rd round with a Migi Gedan Mawashi Geri (Right Low Kick). He kept the momentum going and downed him again with a combination of left punch to right hook. Hori managed to get up but the white towel was thrown in and Sato won by TKO. Sato won the battle of the "Next Generation" and gave everyone something to cheer about for the future.
▼K-1 Rule Fight #4
○Ewerton Teixeira(Kyokushinkaikan)
Ext.2R Decision 2-1
※10-9、9-10、10-9
●Jerome Le Banner(Le Banner Xtream Team)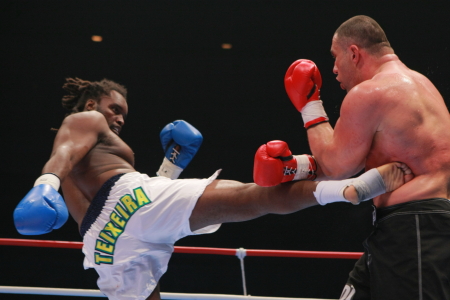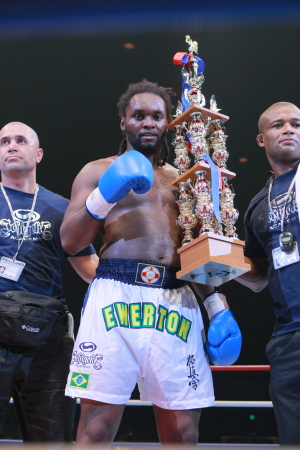 Teixeira who only started K-1 last year and went on to be a finalist in 2008 K-1 GP, faced against Jerome Le Banner. Le banner so confident with his heavy punches came firing from the 1st round but Teixeira cleverly maintains space and drills a Migi Chudan Mawashi Geri (Right Middle Kick) in to the left guard of Jerome. He also reacted swiftly to Jerome's punches and counter attacked in close ranges which shows the dramatic progress made by him in such a short time. After 3 rounds all 3 judges decided it was a draw and went into extra time. In the 2nd round of extra time Jerome kept coming forward with his punches but Teixeira with his foot work hits back with the Migi Gedan & Migi Chudan Geri(Right Low & Right Middle Kick). Jerome tries to attack with his favorite left straight but cannot get a clean hit.
On the other hand Teixeira's kick hits Jerome with accuracy. Teixeira won by a narrow decision of 2-1. Beating a boxing style fighter like Jerome gives up great hope that Teixeira will achieve something big his year.
▼K-1 Rule Fight #5
○Glaube Feitosa(Kyokushinkaikan)
TKO 2R 48sec
※Throw in the Towel
●Junichi Sawayashiki(Team Dragon)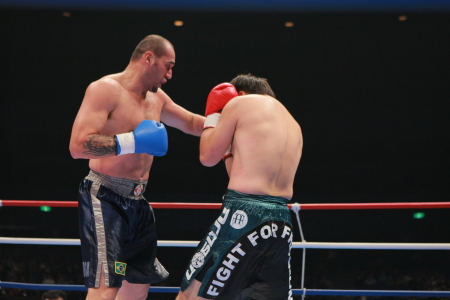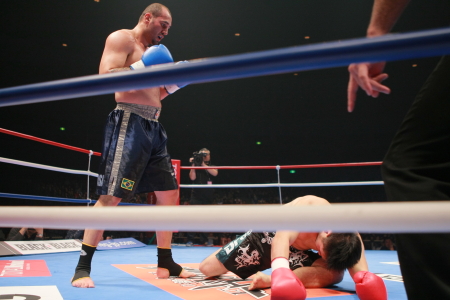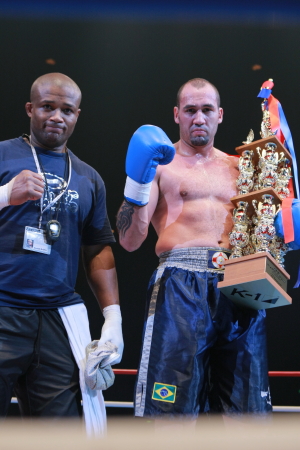 Last up from Kyokusin was Glaube Feitosa who fought with Japans rising sun Junichi Sawayashiki. In the early stages of the 1st round both fighters were watching each others moves but after 2min. Glaube's left jab countered perfectly and downed Sawayashiki. Glaube downed him again before the end of the round with his right hook. The 1st round did most of the job and in the 2nd round Glaube again countered with his left jab as Sawayashiki came surging forward. That was enough to make the second throw in a white towel as Glaube went on to win by TKO. He showed everyone that "He Is Back" with his power and finesse.
『4.5 DREAM. 8 in NAGOYA』
Anderws Nakahara fought his 3rd MMA fight for DREAM since last
September at the NIHON GAISHI Hall in Nagoya won against Oyama
Shungo by TKO.
▼Fight #2
○Andrews Nakahara(Kyokushinkaikan)
TKO 1R2min00sec
※Stopped by Referee
●Oyama Shungo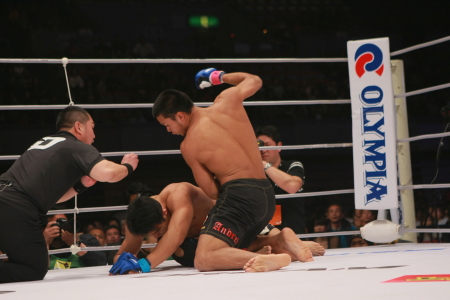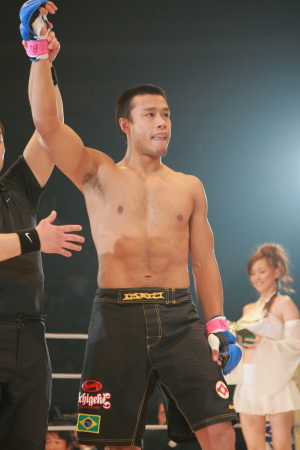 It was a fight against Judo as it was last time with Yoon Dong Sik but Nakahara was well relaxed. In the 1st round Nakahara put in a couple of sharp Migi Gedan Geri(Right Low Kick) to the inside of the thigh of Oyama who took a southpaw(lefty) style. Nakahara continues with a right straight using his low kick as a decoy. Oyama on the other hand forces Nakahara into the ropes and tries to rap his legs and take it into a leg joint lock but Nakahara defends well. Nakahara strikes a right straight in a flash as Oyama tries to get up and downs him. Nakahara continues striking while Oyama is downed and the referee came to stop the fight.
Nakahara won praise for giving a tough fight on his debut against Sakuraba last April and went on to KO Yoon Dong Sik on the next fight. This victory showed that the dream of becoming a MMA Champion is a reality. He also is planning to fight at the 4th World Weight Category Karate Championship in August 23rd, and is aiming the repeat of winning the middle weight championship as he did in 2005.
---